January 20th, 2021
Black Ink 2.1.1 is now available on the Black Ink site and the Mac App Store.
This update includes a fix for an unusual edge case in puzzles that use the Across Lite puzzle format, but specify "unused" squares in a way that is typically reserved for diagramless puzzles. Why might you care about this fix? Good question! I only came upon an example of such a puzzle a few weeks ago, and set about ensuring that Black Ink would support it. Here's how it looks: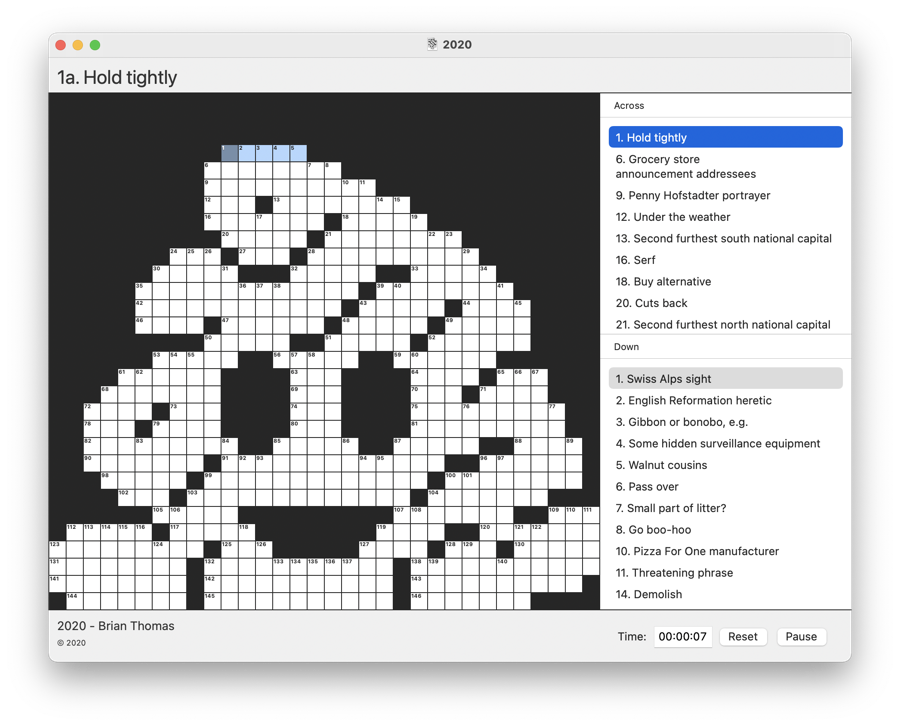 This bit of inspired puzzle design was created by Brian Thomas and published on his Puzzles That Need a Home blog:
If you don't already have Black Ink 2.1.1 installed, be sure to download it or update to the latest version before opening the puzzle!
This update also includes a few other bug fixes and enhancements. Here's the complete list of changes:
Adapt to support puzzles that mix diagramless and regular formats
Fix a bug that prevented puzzle window from being resized by dragging the window's edge
Selected clue is now scrolled to visible with a little buffer area around it in the clue list
Now marks any incorrect answers in the puzzle when enabling the "Automatic Correction" preference
Remove "move to unsolved after switching direction" preference as it was not behaving well
If you enjoy Black Ink, please consider writing a review or rating the app on the Mac App Store, spreading the word on Facebook or Twitter! Thanks for your support.